Thanks to @mackenziestable, this winning dish is perfect for a cozy fall night. We love black garlic with olives and with the bright and aromatic fennel it's really a surprising and delicious dish — thanks Mackenzie!
Check out the full blog post here.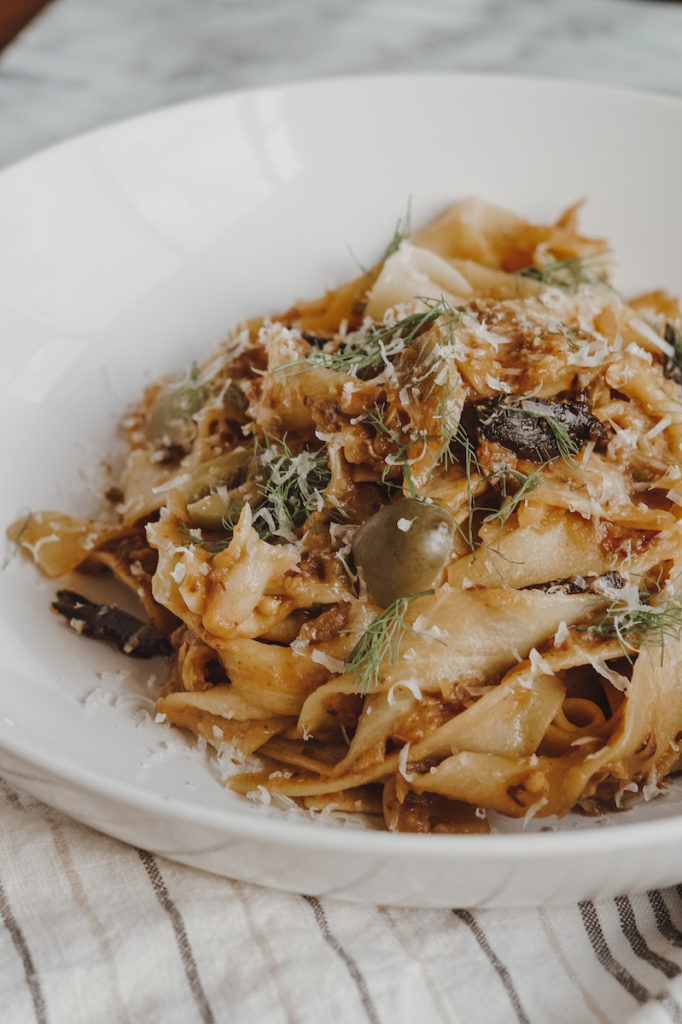 Ingredients
2 medium eggplant
1 large shallot (or small yellow onion)
1 tbsp butter (if vegan, omit)
2 tbsp olive oil
1 fennel bulb, saving some fronds (top greens)
7 cloves black garlic
1/3 cup full-fat coconut milk
1/2 tsp salt, scant (just under)
1/3 cup green olives
+ 1 lb fresh pappardelle pasta (or other)
+parm cheese / breadcrumbs (optional)
Instructions
Roast whole eggplants on a parchment or foil-lined sheet pan, at 400 degrees, until roasted + very soft inside. Around 45 min- 1 hour. A knife should easily slice into it. Cut in half and let cool for a few minutes.

While the eggplant is roasting, roughly chop shallots (they are getting blended), and sauté in butter + olive oil for 5-7 minutes, until soft. No salt.

Scoop out the flesh of the eggplant, leaving the skin. It should be about 1.5 cups worth. A little under/over is fine. Add to a blender with coconut milk, shallots/butter, 5 of the garlic cloves + salt. Blend for 10-15 seconds, so it's creamy, but still a little textured. Set aside.

Heat up a large pot of salted water (a few tbsp salt) and prepare to cook pasta.

Thinly slice fennel bulb– a mandolin is ideal, but you can obviously use a knife. Sauté on medium in a large, deep frying pan with a little olive oil until soft (about 7-10 min). Turn to low and add in the eggplant mixture + roughly chopped olives. Thinly slice remaining 2 garlic cloves + add. Stir to combine.

Cook pasta al dente, drain, and add to sauce pan. Gently stir to incorporate everything. Serve with parmesan cheese, breadcrumbs + fennel fronds!

Tip: make the sauce ahead of time for an even quicker weeknight meal. It will stay good in the fridge for 3 days.
serves 4