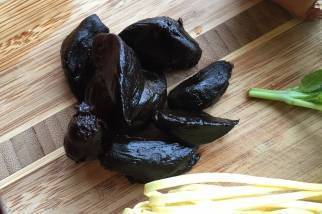 !!GREAT NEWS FOR THE DISCERNING CHEFS OUT THERE!!
We now have premium PEELED BLACK GARLIC available.  We carefully grow and produce all of our organic black garlic right here on Ribbon Road Farm.  From seed to bulb to your fork our proprietary processes insure exceptional size, taste and quality.
Chefs who have used our HUGE PREMIUM CLOVES tell us  "This is the best we have ever tasted"
ORDER NOW WHILE THIS CULINARY DELIGHT IS STILL AVAILABLE!
or learn more about our featured "Ribbon Road Farm Black Garlic"
Listen to an expert explain the HEALTH BENEFITS of eating black garlic.
The blog "9 reasons to eat black garlic" is by Dr. Eric Berg DC 
Read more